Welcome to the world of Pinot Noir, a beloved red wine that captivates the hearts of wine enthusiasts around the globe. Known for its versatile and complex nature, Pinot Noir offers a remarkable range of flavors and styles, making it a true star among its red wine counterparts.
Key Takeaways
Pinot Noir is a beloved red wine renowned for its delicate flavors, medium body and low tannins.

It has an impressive range of food pairings and can be enjoyed globally from California to Germany.

Selecting the perfect Pinot Noir requires careful consideration, while storing & serving it properly enhances flavor complexity for optimal enjoyment.
The Essence of Pinot Noir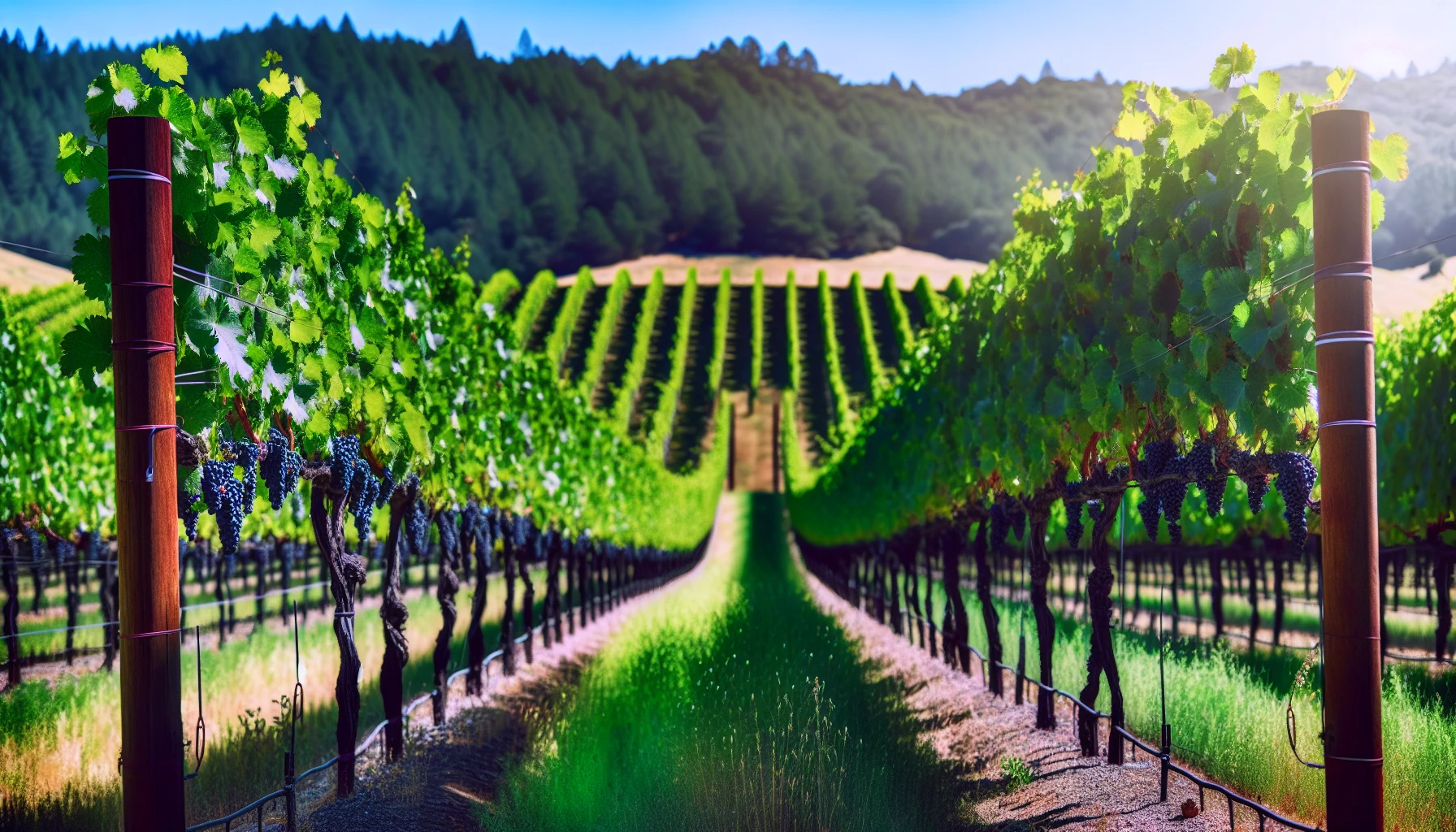 The charm of Pinot Noir begins with its grape variety, a delicate red-wine grape called Vitis vinifera, which is also known as the Pinot Noir grape. The grape's medium body, light flavors, low acidity, and medium to low tannins set it apart from other red wines like Cabernet Sauvignon. Generally acknowledged as unblended, varietal wines, Pinot Noir wines are made primarily from the Pinot Noir grape. This grape variety has captured the attention of wine lovers and even played a significant role in the movie "Sideways," which led to a 16% increase in Pinot Noir sales, including Burgundy Pinot Noir, and a decrease in Merlot sales by 2% in the Western United States.
Pinot Noir's delicate flavors, medium body, and low tannins have made it a favorite among wine enthusiasts. Its allure has led to its cultivation around the world, from the traditional vineyards of France's Burgundy region to the sun-kissed vineyards of California and the cooler climates of Germany and New Zealand. We will demystify the origins, flavors, and worldwide popularity of Pinot Noir, along with providing tips for choosing, storing, and savoring this exceptional red wine.
The Origin and Evolution of Pinot Noir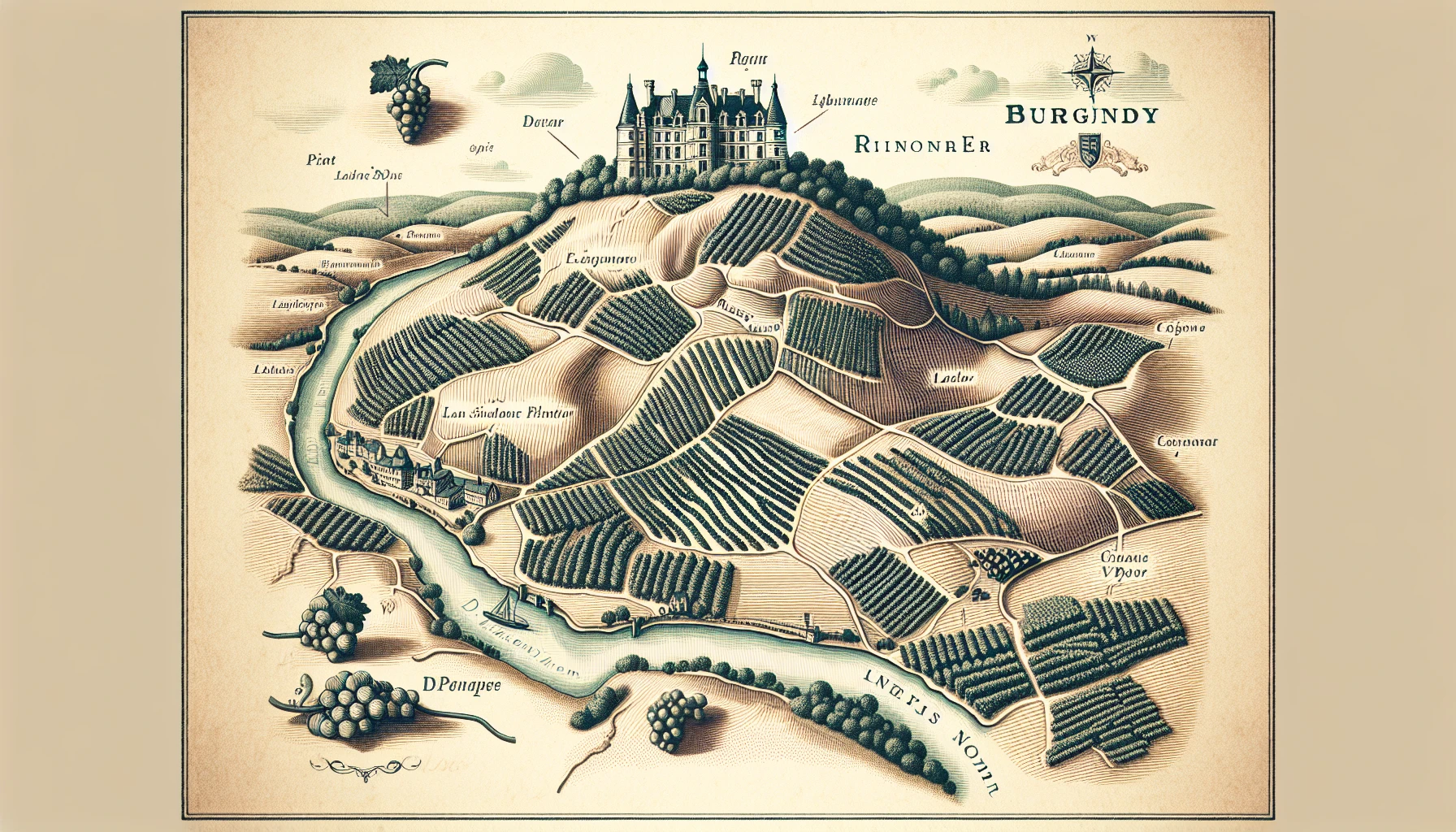 Pinot Noir's history can be traced back to ancient times, with a Roman agricultural writer describing the grape variety in the 1st century. This ancient grape has its roots in Burgundy, France, where it is one of the most famous red grapes used for winemaking. Over time, Pinot Noir has been cultivated globally, typically in cooler climates, and is mainly associated with the Burgundy region of France. Over a thousand clones have been identified, with Pinot Gris and Pinot Blanc being color variants of Pinot Noir. The cultivation of pinot noir grapes has contributed to the rich history and global appreciation of this exceptional wine variety.
In good years, Burgundy's Pinot Noir produces wines that can age with grace. These wines exhibit complex fruit and forest floor flavors when they reach peak maturity, usually 15 or 20 years after the vintage. Many of these wines are produced in small quantities, adding to their allure and value. Understanding the origins and evolution of Pinot Noir is key to appreciating the flavors and characteristics that shape this beloved wine.
A Symphony of Flavors: What Does Pinot Noir Taste Like?
The taste of Pinot Noir is a symphony of flavors that varies depending on the region and terroir. Predominant flavors in Pinot Noir wines are typically:
Red fruits like cherries and raspberries

Undertones of earthiness

Spice

Occasionally vanilla and smoke
Pinot Noir, also known as pinot nero, is generally light to medium-bodied, with medium-high acidity, making it a versatile and enjoyable Pinot Noir wine for many palates.
For example, Pinot Noir wines can offer a diverse range of flavors, such as:
Louis Jadot's 2018 Nuits-Saint-Georges Les Boudots 1er Cru Domaine Gagey: red and black cherries, pomegranate, cardamom, and red tea

Pinot Noir from Pommard, France: robust flavors of black cherry, plum, and an earthy complexity

Champagne production: a complex array of red fruit characteristics, integrating notes of strawberry and raspberry throughout the sparkling wine
With such a diverse range of flavors, it's no wonder Pinot Noir has captivated the hearts of wine lovers worldwide.
Pinot Noir Across the Globe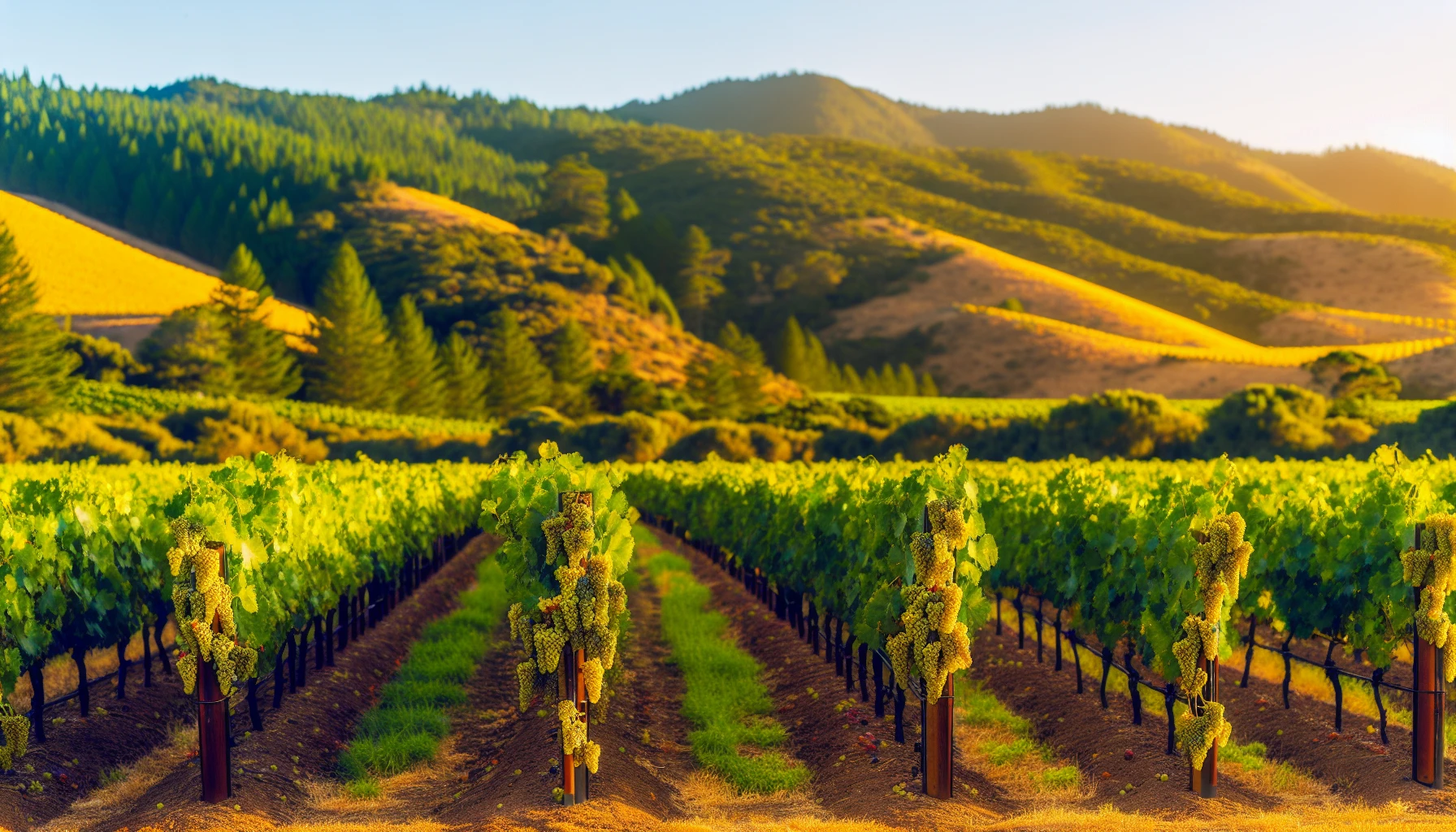 Pinot Noir's global presence is undeniable, with renowned regions such as:
Oregon's Willamette Valley

California's Carneros, Central Coast, Sonoma Coast, and Russian River AVAs

South Africa's Elgin and Walker Bay

Australia's Mornington Peninsula, Adelaide Hills, Great Southern, Tasmania, and Yarra Valley

New Zealand's Central Otago, Martinborough, and Marlborough wine regions
All producing exquisite Pinot Noir wines from pinot noir grown.
We will examine the distinctive characteristics and styles of Pinot Noir from California, Oregon, and Germany, highlighting the grape's versatility and appeal across different terrains and climates.
California Pinot Noir: Sun-kissed Elegance
California Pinot Noir is renowned for its opulent and intricate flavors, impacted by the state's balmy climate and varied terroirs. The diverse regions of California, from the cooler Sonoma Coast to the warmer Napa Valley, influence the taste and quality of Pinot Noir wines. In cooler zones, wines tend to be lighter and more delicate, whereas in warmer zones, wines are fuller-bodied and fruit-driven.
Take, for example, the Sea Smoke Pinot Noir, characterized by pure cherries with a hint of black raspberries, subtle suggestions of licorice, cracked peppercorns, and candied rose petals, along with sweet spices in the long finish. Another example is Dutton Goldfield's 2019 Dutton Ranch – Emerald Ridge Vineyard Pinot Noir, offering flavors of red cherries, rose water, cranberries, pomegranates, blackberries, baking spice, and forest floor. These sun-kissed California Pinot Noirs showcase the elegance and complexity that have made them a favorite among wine connoisseurs.
Oregon's Willamette Valley: A New World Benchmark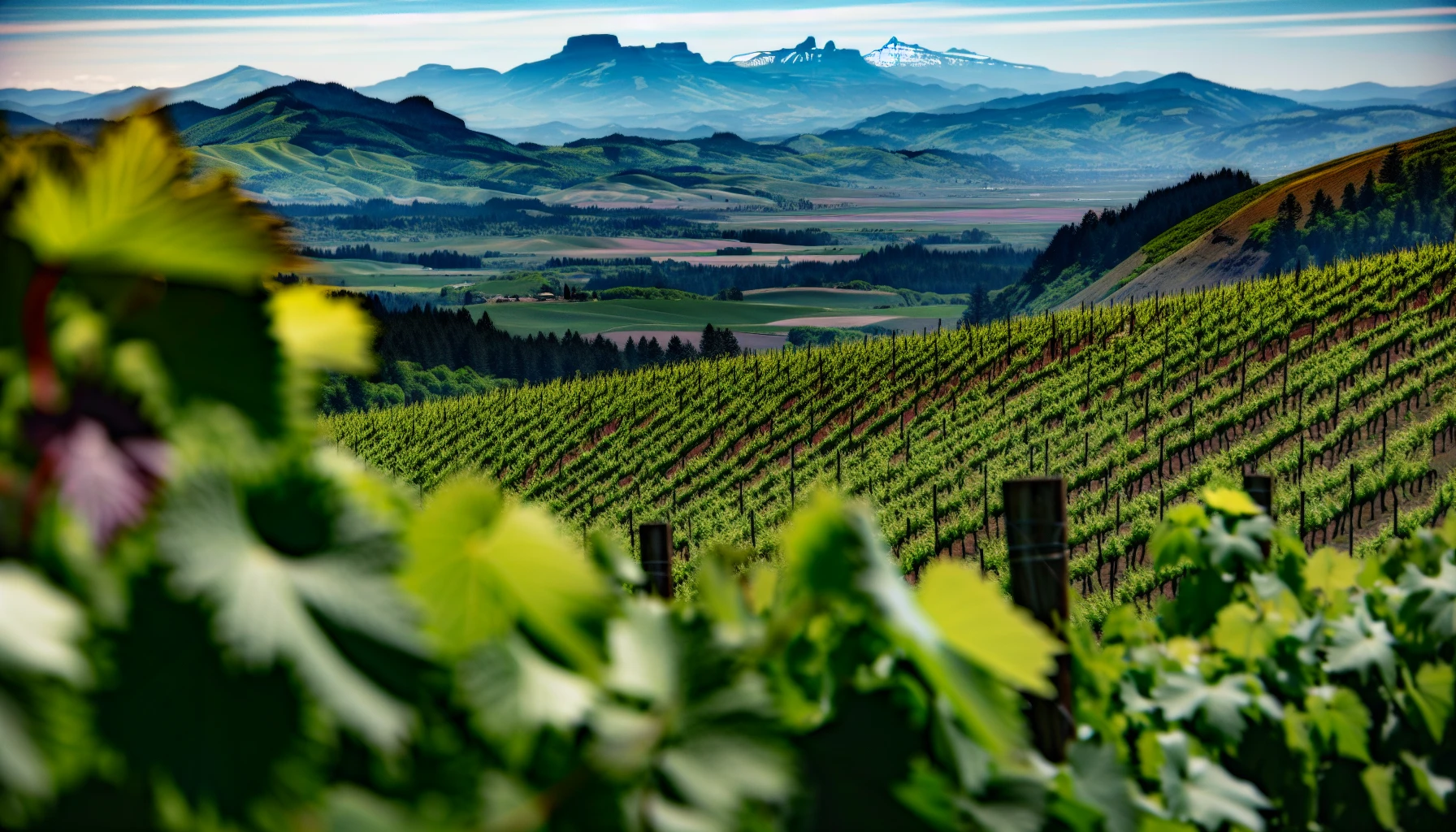 Oregon's Willamette Valley has acquired a reputation for producing high-quality Oregon Pinot Noir, rivaling the finest from Burgundy and California. The cool climate of the region allows for the production of delicate and complex wines, with flavors ranging from cranberry and bing cherry fruit to earthy truffle mushrooms and even a green dandelion stem flavor.
A prime example of Willamette Valley Pinot Noir is Authentique's Eola Springs Vineyard Heritage '72 Block Pinot Noir 2016 Eola-Amity Hills, which presents flavors of red plums, rose petals, cola spice, sarsaparilla, dried porcini, oolong tea, and vivid cherries. This New World benchmark for Pinot Noir demonstrates the exceptional quality and character that Oregon's Willamette Valley has to offer.
Old World Charm: German Pinot Noir (Spätburgunder)
German Pinot Noir, commonly known as Spätburgunder, provides a distinctive Old World allure with its sophisticated and refined flavors. Comparable in style to Burgundian Pinot, German Spätburgunder exhibits a combination of fresh red cherries and savory notes, often at a more approachable price point than their French counterparts.
Baden and Ahr are notable wine regions in Germany that produce Pinot Noir, with the cool climate of the country giving rise to flavors of cranberry and cherry, accompanied by subtle earthy notes. The elegant and refined flavors of German Pinot Noir, along with the country's status as the third-largest global producer of Pinot Noir, showcase the nation's commitment to this captivating grape variety.
Food and Pinot Noir: A Match Made in Heaven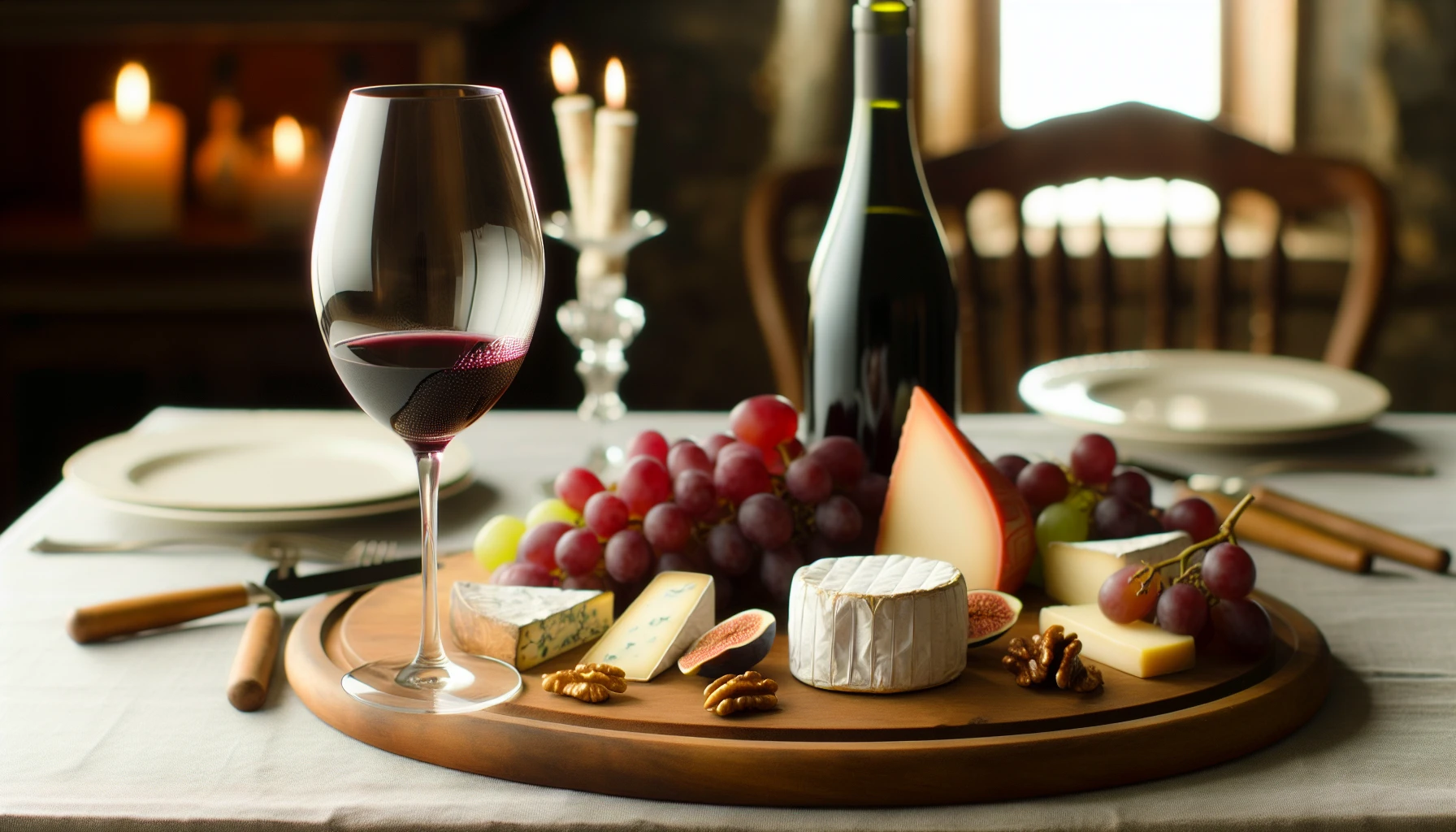 Pinot Noir's versatility in food pairings is truly a match made in heaven, as it complements a wide range of dishes, including:
Salmon dishes such as Herb-Roasted King Salmon with Pinot Noir Sauce, Lemon Butter Grilled Salmon, Slow-Roasted Salmon with Pinot Noir Pairing Salt Blend, Planked Salmon with Pinot Noir Berry Sauce, and Cedar Plank Salmon with French Lentils

Duck dishes

Grilled vegetables

Decadent cheeses

Earthy notes
Vegetarian dishes also find a harmonious partner in Pinot Noir, with heavier, earthy dishes featuring mushrooms, root vegetables, or lentils making for excellent pairings. Vegan enchiladas, miso-roasted eggplants, fried tofu with spicy ginger-sesame sauce, veggie risotto, butternut squash, and Brussels sprouts are all suitable options to enjoy alongside a glass of Pinot Noir. With such a diverse range of food pairings, Pinot Noir is an ideal choice for any meal.
Storing and Serving Pinot Noir: Tips for Optimal Enjoyment
Proper storage and serving techniques are fundamental to fully appreciating the flavors and complexities of Pinot Noir. Pinot Noir is best enjoyed when served between 55-60°F (12-15°C), allowing its aromatic profile to shine. An aroma collector wine glass, with its wide bowl and narrower rim, is the ideal vessel for serving Pinot Noir, as it helps to concentrate the wine's delicate aromas.
Decanting Pinot Noir can also enhance the wine's enjoyment by allowing its full aromatic spectrum to be revealed. If you wish to age Pinot Noir bottles, it's recommended to store them at a temperature of 55 degrees Fahrenheit to ensure optimal conditions for maturation. By following these tips, you can elevate your Pinot Noir experience to new heights.
The Art of Selecting Pinot Noir
Choosing the perfect Pinot Noir requires attention to factors such as:
Region of origin: Cooler regions like France and Germany produce lighter-bodied wines with higher acidity and red fruit, earth, and floral notes. Warmer regions like California yield fuller-bodied wines with lower acidity and flavors of ripe black fruit, spice, and oak.

Vintage: Different vintages can vary in terms of flavor and quality. It's important to consider the specific characteristics of each vintage when selecting a Pinot Noir.

Personal taste preferences: Everyone has different preferences when it comes to wine. Some people may prefer a lighter, more acidic Pinot Noir, while others may prefer a fuller-bodied, fruit-forward style.
Taking these factors into account can help you find the perfect Pinot Noir that suits your taste preferences and enhances your overall wine experience.
The vintage of Pinot Noir can also greatly influence its quality and taste, as various elements like vine genetics, fruit ripeness, region, and vineyard shape the composition of the grapes and the subsequent wine. Personal taste preferences are equally important in selecting a Pinot Noir, as the diversity of flavors and styles ensures that there is a Pinot Noir to suit every palate. When in doubt, explore recommendations from experts and fellow wine lovers, such as:
Alistair Cooper MW

Sarah Knowles MW

David Kermode

Charles Curtis MW
These experts are held in high esteem for their expertise in Pinot Noir selection.
The Future of Pinot Noir: Trends and Innovations
Pinot Noir's future holds promise with continuous improvements in viticulture and winemaking techniques, coupled with a rising admiration for the grape's unique qualities and adaptability. In the United Kingdom, Pinot Noir is currently the second most extensively cultivated variety, with nearly all of it being used for sparkling wine production.
Climate change, however, poses challenges and uncertainties for the future of Pinot Noir, as rising temperatures can affect grape quality during ripening and even make some regions too hot for grape cultivation. Despite these challenges, advancements in Pinot Noir winemaking continue, including:
The utilization of new technologies for phenolic extraction

Sustainable farming practices

Digital innovations to augment efficiency and quality throughout the winemaking process
As the world of Pinot Noir continues to evolve, its unique appeal and versatility are sure to endure.
Summary
In conclusion, Pinot Noir's versatility, complexity, and global presence have solidified its status as a beloved red wine. From its ancient origins in Burgundy, France, to its diverse range of flavors and styles, Pinot Noir offers a captivating experience for every wine enthusiast. By understanding its history, selecting the perfect bottle, and employing proper storage and serving techniques, you can fully appreciate and savor the enchanting world of Pinot Noir.
Frequently Asked Questions
Is pinot noir dry?
Pinot Noir is considered a dry wine, since it undergoes full fermentation and has less than 3% residual sugar. It's light- to medium-bodied, with bright acidity, silky tannins and alcohol ranging from 12–15%. Its complex flavor profile typically includes cherry, raspberry, mushroom, forest floor, vanilla and baking spice.
Is pinot noir red or white?
Pinot Noir is typically a red wine, although it can also be used to make rosé wines and is one of the three main grape varieties in Champagne.
What does pinot noir taste like?
Pinot Noir is typically dry, light- to medium-bodied, with bright acidity, silky tannins and aromas of cherry, raspberry, mushroom, forest floor, vanilla and baking spice.
How does the region of origin affect the flavor profile of Pinot Noir?
Region of origin has a major impact on the flavor profile of Pinot Noir, with cooler climates producing lighter wines with higher acidity and red fruit, earth and floral notes, while warmer climates lead to fuller-bodied wines with lower acidity and flavors of ripe black fruit, spice and oak.
What is the optimal temperature for serving Pinot Noir?
Pinot Noir should be served at a temperature between 55-60°F (12-15°C) for optimal flavor.